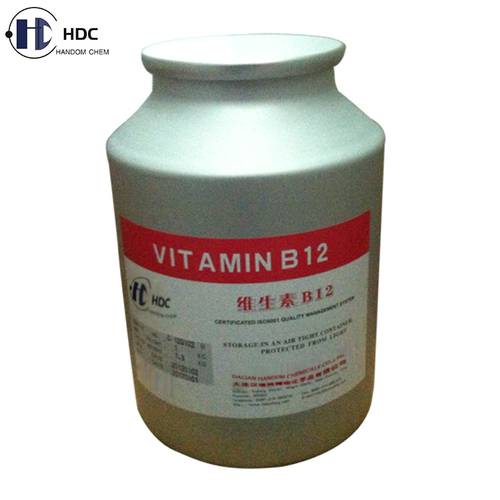 Mecobalamin (Methylcobalamin) Price And Quantity
2000.00 USD ($)/Kilograms

1 Kilograms
Mecobalamin (Methylcobalamin) Product Specifications
Slightly soluble in water and DMSO, Sparingly soluble in Methanol

2936260000

Methylcobalamin is a derivative of vitamin B12, which is beneficial to human body absorption. Its function is to nourish nerves and supplement the human body as a hematopoietic raw material. Methylcobalamin is clinically mainly used for patients with nerve damage, limb numbness and muscle atrophy. Methylcobalamin can also be taken orally for patients with peripheral facial neuritis, diabetic peripheral neuropathy, and alcoholic peripheral neuropathy. The side effects of methylcobalamin are mainly gastrointestinal reactions. Some patients have symptoms of nausea and bloating after taking it due to poor gastrointestinal function. Most patients can tolerate it. For patients with intolerance, vitamin B12 can be considered.

Vitamins

food

Irregular

>190C (dec.)

Room Temperature

36 Months

Dark red crystals or crystalline powder

236-535-3

98.5%-101.0%(On the Anhydrous Basis)

Food Grade

Mecobalamin

NO

Other

Other

13422-55-4

Powder

Methylcobalamin has important functions in the medical field. It is a derivative of vitamin B12 that can promote the production of red blood cells and prevent and treat anemia. At the same time, methylcobalamin can also promote the metabolism of protein and fat and maintain the normal function of the nervous system. Therefore, methylcobalamin is widely used to treat anemia, neuritis, and other conditions related to vitamin B12 deficiency. Methylcobalamin also has antioxidant and anti-inflammatory effects. Research shows that methylcobalamin can neutralize free radicals and reduce oxidative stress damage to cells, thus playing an antioxidant role. Methylcobalamin is also widely used in agriculture. It can promote plant growth and development and improve crop yield and quality. Studies have shown that methylcobalamin can promote the synthesis of chlorophyll in plants, increase photosynthetic efficiency, and thus improve the utilization of light energy by plants. In addition, methylcobalamin can also enhance the stress resistance of plants and improve their ability to adapt to environmental stress. Therefore, methylcobalamin is widely used in agricultural production to grow crops such as vegetables, fruits and cereals. In addition to medicine and agriculture, methylcobalamin also has important functions in industry. It can participate in a variety of chemical reactions as a catalyst. Methylcobalamin catalyzes the oxidation of fatty acids and is used in the production of soaps and synthetic lubricants. In addition, methylcobalamin can also catalyze organic synthesis reactions and is used to synthesize chemicals such as drugs, dyes, and plastics. Therefore, methylcobalamin has broad application prospects in industrial production.

C63H90CoN13O14P
Mecobalamin (Methylcobalamin) Trade Information
Shanghai, Tianjin or Beijing

Paypal Letter of Credit at Sight (Sight L/C) Telegraphic Transfer (T/T) Western Union

1000 Kilograms Per Month

10 Days

Yes

If order is confirmed we will reimburse the sample cost

100g/tin or 1kg/tin, the outer package is carton box.

Asia Australia Central America North America South America Eastern Europe Western Europe Middle East

All India

ISO
Product Description
Vitamin B12 is a general term for vitamin B group chemicals with a cobalt ring structure. There are four types of vitamin B12 family: cyanocobalamin, hydroxocobalamin, adenosylcobalamin and methylcobalamin, but clinically used vitamin B12 usually refers to cyanocobalamin.
Cyanocobalamin and hydroxocobalamin have no direct biological activity. Cyanocobalamin is a prodrug, which can be converted into methylcobalamin and adenosylcobalamin in the human body. Methylcobalamin and adenosylcobalamin are the two active coenzyme forms of vitamin B12 in the human body.
Cyanocobalamin and hydroxocobalamin are dark red crystals or crystalline powder; adenosylcobalamin is yellow-orange hexagonal crystals, which turn dark red when exposed to air; methylcobalamin is bright red needle-like crystals or crystalline powder.
All four injections of cobalamin are red. In the storage of ordinary medicines, it is necessary to keep them away from sunlight. Cyanocobalamin is the most stable one, and generally it will not be degraded by sunlight; adenosylcobalamin and methylcobalamin are unstable when exposed to sunlight, and must be strictly protected from sunlight, and the injection time must also be shortened.
The four cobalamins can prevent and treat red blood cell anemia and treat peripheral neuropathy. In the human body, we can only use adenosylcobalamin and methylcobalamin directly, cyanocobalamin and hydroxocobalamin need to be converted into adenosylcobalamin and methylcobalamin by the organelles in the liver before they can be utilized by the human body. For people with liver diseases, such as hepatitis and cirrhosis, adenosylcobalamin and methylcobalamin should be directly supplemented to reduce the burden on the liver, and patients with liver function impairment can be given priority.
Enter Buying Requirement Details
Other Products in 'Vitamins' category